ABOUT PIPPA
The Philippine Independent Power Producers Association, Inc. (PIPPA) is a professional organization of independent power producers (IPPs) working to provide adequate, reliable, and affordable supply of electricity to Filipino homes and industries.
Formed on November 15, 1995, PIPPA provides an avenue for its member-IPPs to exchange information on policies affecting the electric power industry. It also serves as the industry's voice in advancing public policy that will be beneficial not only for its members but, more importantly, for the Filipino consumers.
From a group of nine power firms responsible for the organization's creation, PIPPA has now grown into an association of 28 companies engaged in power generation. Collectively, PIPPA's members have 82.8% (13,549.40MW) of grid installed capacity and serve millions of Filipinos in Luzon, Visayas and Mindanao.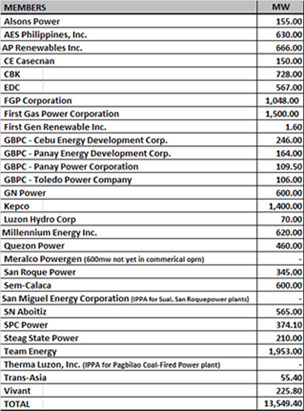 Members' Installed Capacity (By Fuel Type)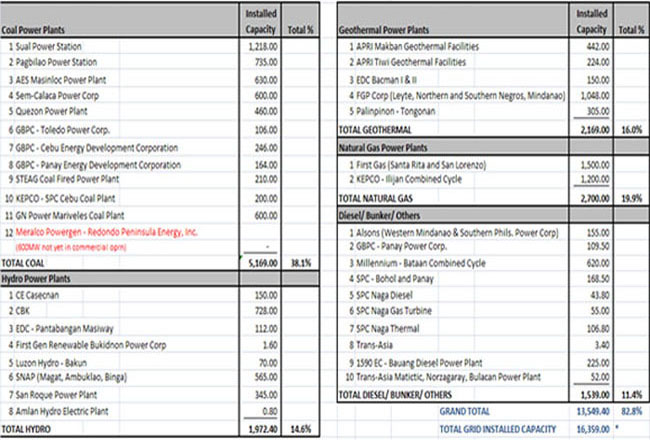 Note: *Based on DOE 2010 statistics –
http://www.doe.gov.ph/EP/Powerstat.htm
Through the years, PIPPA has been an advocate of a more robust Philippine electric power industry through an empowered independent power production industry, and remains committed to its core objectives:
• To promote the common interests and growth of the independent power production industry and their consumers, as well as those of the related and support industries;
• To promote a forum for those in the power sector to share and discuss common concerns and other issues so the same can be addressed from the sectoral viewpoint; and
• To develop a constructive and closer relationship between the members of the Association and pertinent government institutions including the Department of Energy, Energy Regulatory Commission, Department of Finance, Power Sector Assets and Liabilities Management Corp., Philippine Electricity Market Corp., and National Grid Corporation of the Philippines, among others.
BOARD OF TRUSTEES / OFFICERS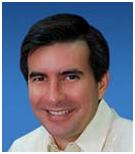 Luis Miguel O. Aboitiz
President & Board Member
Mr. Luis Miguel Aboitiz currently sits as a member of the Board of Advisers of Aboitiz and Company, and serves as the President and Chief Executive Officer of Aboitiz Energy Solutions, Inc.
Mr. Aboitiz also performs leadership roles in various Aboitiz companies as Senior Vice President for Power Marketing and Trading of Aboitiz Power Corporation, and First Vice President of Aboitiz Equity Ventures Inc.
He is also Director and Senior Vice President – Business Development of Hedcor, Inc.; Director and Vice President - Treasurer of Aboitiz Renewables, Inc. and Therma Power, Inc.; Director and Vice President of Therma Marine, Inc.; Executive Vice President and Chief Operating Officer of Adventenergy, Inc.; and Director and Treasurer of Redondo Peninsula Energy, Inc.
Mr. Aboitiz also sits as Director of the Manila-Oslo Renewable Enterprise, Inc.; Therma Luzon, Inc.; AP Renewables, Inc.; Subic Enerzone Corporation; Hedcor Sibulan, Inc.; Pilmico Animal Nutrition Corporation; and Pilmico Foods Corporation.
He holds undergraduate degrees in Computer Science and Engineering from Santa Clara University in California, and a Master in Business Administration from the University of California, Berkeley.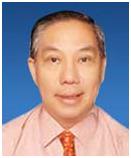 Ernesto B. Pantangco
Vice-President (BOT/BOO Group) & Board Member
Mr. Pantangco is the Executive Vice President of PNOC-Energy Development Corporation and the Senior Vice President of First Gen Corporation and its various subsidiaries. He also heads two family corporations, Balpan Enterprises Inc., and EBP Holdings Corporation.
Concurrently, Mr. Pantangco sits on the Board of various corporations in the energy industry including the PNOC-Energy Development Corporation, FG Bukidnon Power Corporation, and various companies under First Gen Corporation. He has also sat on the Boards of the Philippine Electricity Market Corporation and Bauang Private Power Corporation.
Prior to his active career in the power industry, Mr. Pantancgo held financial posts in the Philippine Tourism Authority and Duty Free Philippines, Inc. He was also director and Treasurer of Nayong Filipino Foundation, Inc., Corregidor Foundation Inc., Philworld Charter & Travel Resources as well as a number of local resorts and hotels. He also chaired the Department of Tourism's Fund Monitoring Committee.
Mr. Pantangco received his MBA degree from the Asian Institute of Management after completing his Bachelor of Science in Mechanical Engineering course in De La Salle University.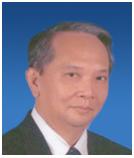 Chrysogonus Fangonil Herrera
Vice President (Merchant Group) & Board Member
Mr. Chrys Herrera has over 30 years of experience in the Philippine power industry with extensive expertise in utility finance and economics, power supply contract development and marketing, project engineering and power system operation, forecasting and financial modeling, utility tariff design, and risk management.
He joined the National Power Corporation in 1976 where he held various positions in operations, economics and finance until 1992 when he transferred to the private sector to successfully negotiate a Build‐Own‐Operate contract for a 58-megawatt diesel plant – the first power plant in the Philippines to be capitalized purely on project financing.
Mr. Herrera currently sits as VP for Commercial of AES Philippines, Inc.
He has a degree in Electrical Engineering from the Mapua Institute of Technology and graduated with distinction at the Asian Institute of Management with a Master's degree in Management.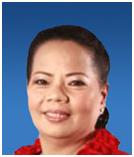 Elenita Dimacali Go
Vice-President (IPPA Group) & Board Member
Ms. Elenita Dimacali Go currently serves as the General Manager of the SMC Global Power Holdings Corp. while concurrently sitting as the Sales & Trading Group Manager of San Miguel Energy Corporation.
Ms. Go joined San Miguel Corp. in 2001 where she handled various positions in corporate procurement both for the company and several of its subsidiaries. She was also appointed as Director for the Manila Electric Co. from 2009 to 2010.
Prior to this, Ms. Go served key positions in Trading Cement Industries, PICOP, and the ECJ Group of Companies.
She holds a Bachelor of Science degree in Electrical Engineering from the Mapua Institute of Technology and a Master's degree in Business Administration from the Ateneo Graduate School of Business.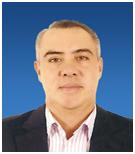 Juan Eugenio L. Roxas
Auditor & Board Member
Mr. Juan Eugenio Roxas currently juggles numerous posts in several companies engaged in the power sector.
He concurrently serves as Vice-President for External Affairs of Vivant Corporation, Vice-President for External Affairs & Director of 1590 Energy Corporation, Vice-President & Director of Northern Renewables, and Chairman of the Board of Directors of Amlan Hydro Power Inc.
With an extensive background in public-private relations, Mr. Roxas has served as consultant in various organizations including Filinvest Land, Inc. and for several members of both Houses of Congress. In addition, Mr. Roxas has, in the past, held administrative posts in various organizations such as the Philippine National Bank, San Carlos Sugar Milling and Refining Co., Inc., and Stratbase, Inc.
Mr. Roxas finished BS Business Administration from St. Paul University in Dumaguete City and earned credited units in Business Administration from Siliman University also in Dumaguete City. He also took post-graduate courses in Finance at the Ateneo de Manila University.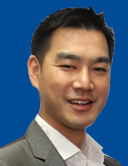 Mr. Suguru Tsuzaki
Board Member
Mr. Suguru Tsuzaki is President and Chief Executive Officer of TeaM (Philippines) Energy Corporation, a joint venture between Tokyo Electric Power Company and Marubeni Corporation.
He concurrently serves as Executive Vice President – Energy Supply Business, Project Development & Commercial Affairs for TeaM Energy Corporation.
Prior to his current positions, Mr. Tsuzaki served as Vice President and Compliance Officer for San Roque Power from April 2010 to March 2014. He occupied various posts in Marubeni Corporation's Head Office in Tokyo from 2002 to 2009.
Mr. Tsuzaki is a graduate of the Department of Economics at the Aoyama Gakuin University in Tokyo.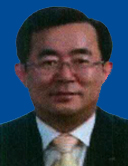 Mr. Hyang Reol Lyu
Board Member
Mr. Lyu Hyang-Reol is the newly-appointed President and CEO of KEPCO Philippines – a major power generation firm operating in the country whose local assets include stakes in three base-load power plants located in Batangas and Cebu provinces.
Prior to his current post, Mr. Hyang-Reol served as KEPCO's Vice-President and Head of Overseas Project Management Department.
His 13-year career at KEPCO also included stints as Director General/Head of Dangjin Branch Office, Director General/Head of Project Management Team 2 and Overseas Project Management Department, General Manager/Vice President of Jeonbuk District Division.
He has also been previously deployed in the Philippines as General Manager of the KEPCO Ilijan Corporation.
Mr. Hyang-Reol graduated from the University of Seoul with a Bachelor's Degree in Public Administration, and later gained a Master's Degree in Business Administration from the Helsinki School of Economics.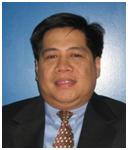 Jaime T. Azurin
Board Member
Mr. Jaime Azurin is currently Executive Vice President for Business Development and Commercial Operations at the Global Business Power Corporation (GBPC).
Mr. Azurin joined the company – the biggest power producer in the Visayas – as Senior Vice President / Chief Finance Officer in 2006. Today, he heads the power firm's Business Development and Finance & Treasury units and likewise handles all contract negotiations with utility companies in the Visayas for the company's 630-megawatt total generating capacity.
Prior to this, he served as Project Finance Division Head (Vice President) for the First Metro Investment Corporation, Project Finance Officer / Head – Debt Syndication (Assistant Vice President) for Solidbank Corporation, and occupied various positions in Benguet Management Corporation.
He graduated with a Bachelor of Arts degree in Economics from the Ateneo de Manila University and candidate of Masters in Business Administration degree from the Ateneo Graduate School of Business.
Miguel Jose Castillo Valencia
Board Member
Mr. Mike Valencia concurrently heads several energy-related firms, sitting as Chairman and President of Panasia Energy, Inc. (2011 to present), Chairman and President of Millennium Energy Inc. (2008 to present), and President of Top Coal Corporation (2004 to present).
Demonstrating his diverse interests and expertise, Mr. Valencia likewise holds leadership positions in non-energy companies, namely: Terra Real Management International, Inc. (President, 1998 to present); Globus Industrial Exchange Corp. (President, 1995 to present); and Terra Real Ltd. (Chairman and President, 1990 to present).
He has also been involved in the transport, maritime, and insurance industries, and remains active in civic clubs and non-profit organizations where he occupies various posts. He was past President of the Ateneo Alumni Association (2005 & 2009) and concurrently a Board of Trustee of the Philippine Jesuit Aid Association.
Ramon U. Agay, Jr.
Treasurer
Mr. Ramon Agay, Jr. currently sits as Comptroller of SMC Global Power Holdings Corp.
Atty. Edward Albert E. Eviota
Assistant Corporate Secretary
Atty. Eviota is a highly trained specialist in energy law, corporate law, special projects and public utilities. He obtained his law degree from the Ateneo De Manila School of Law in 1988, and was admitted to the Philippine Bar in 1989. He is one of the Principals of DLDTELaw Office.